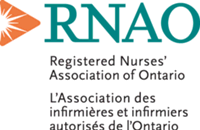 Registered Nurses' Association of Ontario
The Registered Nurses' Association of Ontario is the professional association representing registered nurses, nurse practitioners and nursing students in Ontario. Since 1925, RNAO has advocated for healthy public policy, promoted excellence in nursing practice, increased nurses' contribution to shaping the health-care system, and influenced decisions that affect nurses and the public they serve. 
For more information about RNAO, visit our website at www.RNAO.ca. You can also check out our Facebook page at www.RNAO.ca/facebook and follow us on Twitter at www.twitter.com/RNAO.
To arrange an interview with a nurse, please contact:
Marion Zych
Director of Communications, RNAO
647-406-5605 (cell)
[email protected]


Contact Information

Marion Zych
Director of Communications, RNAO
Tel: 647-406-5605


[email protected]



Victoria Alarcon
Editorial Assistant
Tel: 416-408-5610
Fax: 416-599-1926


[email protected]