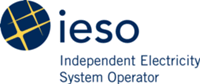 The Independent Electricity System Operator (IESO) works at the heart of Ontario's power system – ensuring there is enough power to meet the province's energy needs in real time while also planning and securing energy for the future. It does this by:
- balancing the supply of and demand for electricity in Ontario and directing its flow across the province's transmission lines
- planning for the province's medium- and long-term energy needs and securing clean sources of supply to meet those needs 
- overseeing the electricity wholesale market where the market price of electricity is set
- fostering the development of a conservation culture in the province through programs such as saveONenergy
The IESO is a not-for-profit corporate entity established in 1998 by the Electricity Act of Ontario. It is governed by an independent Board of Directors, appointed by the Government of Ontario. Its fees and licences to operate are set by the Ontario Energy Board and it operates independently of all other participants in the electricity market.
Through amendments to the Electricity Act, the operations of the IESO and the Ontario Power Authority (OPA) were merged on January 1, 2015, bringing together real-time operations of the grid with long-term planning, procurement and conservation efforts.